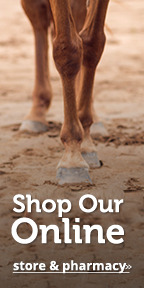 Proper Medication Use in Horses - Our Online Pharmacy

Beginning in 2013, we inaugurated our Online Pharmacy service for our clients. We are providing this service in the hope that it will enable horse owners to have another option in seeking out necessary medications for their horses, while still maintaining open lines of communication with our office. The issue of drug use and medications in horses, particularly in equine athletes, has risen to the fore over the last several years. High profile cases of anabolic steroid use and the use of other performance enhancing drugs in racing and performance horses have negatively impacted public opinion of the sports that many of us know, love and participate in. There is often a fine line between the therapeutic use of medication designed to allow a horse to perform to the best of its abilities versus the over-use of drugs to enhance performance. Staying on the ethical side of this line requires constant communication between horse owners, trainers and veterinarians. The proper use of medications to ease pain, speed recovery and treat illness or injury is appropriate. The use of medications to enhance performance or attempt to confer an advantage is wrong. The use of any drug or medication that puts a horse or rider at risk is just wrong. We will always adhere to strict ethical standards in the use and dispensing of medications for our clients. We will maintain these standards in our day to day interactions with clients as well as in the use of our online pharmacy. With these standards in mind, we sincerely hope that you will find this pharmacy option to be useful and that you and your horse will benefit from our continuing relationship. Proceed to the Online Pharmacy/Other useful links tab for more information.

A new medication for navicular syndrome - Osphos

Navicular disease was historically a diagnosis of doom for performing horses. As we learned more about this supposed "disease", we became aware of just how many different structures in the heel area could possibly be related to the production of lameness. New techniques, including ultrasound, bone scanning and MRI, led to greater differentiation of the many causes of navicular disease. As a result, it was renamed navicular syndrome, and treatments were more appropriately aimed at the specific horse's underlying issue. Yet responses often remained frustrating. Now there is a new medication called Osphos, which holds great promise for this condition. But the type of case is still an important factor. Osphos is indicated only for those cases of navicular syndrome associated with bony changes specifically. If one of the many soft tissue structures in the heel area is the root cause of you horse's problem, then Osphos will not help. However, it holds promise for those cases involving changes in the navicular bone. Osphos works by inhibiting osteoclasts, the cells that are associated with breaking down inflamed or damaged bone in cases of degenerative bone disease. Less breakdown means slower progression of degeneration and the possibility that some restoration of healthy bone may occur. This drug has recently been FDA approved after research indicated a better than 70% response in appropriately selected cases. The way to determine whether your horse would be an appropriate patient is to have an examination done by your veterinarian to determine whether the lameness is associated with the heel area, and whether xrays indicate it is likely to respond to Osphos therapy. We are happy to provide this service and look forward to using this new tool against this condition. Feel free to call or email us if you have any questions.

Upcoming events for Clarke Equine - Wellness and Performance


Location: 1236 Kimble Rd. Berryville, VA 22611
Phone: 540-955-9115
Fax: 540-955-9130
Business address: P.O. Box 392 Berryville, VA 22611
Email: office@clarkeequine.com